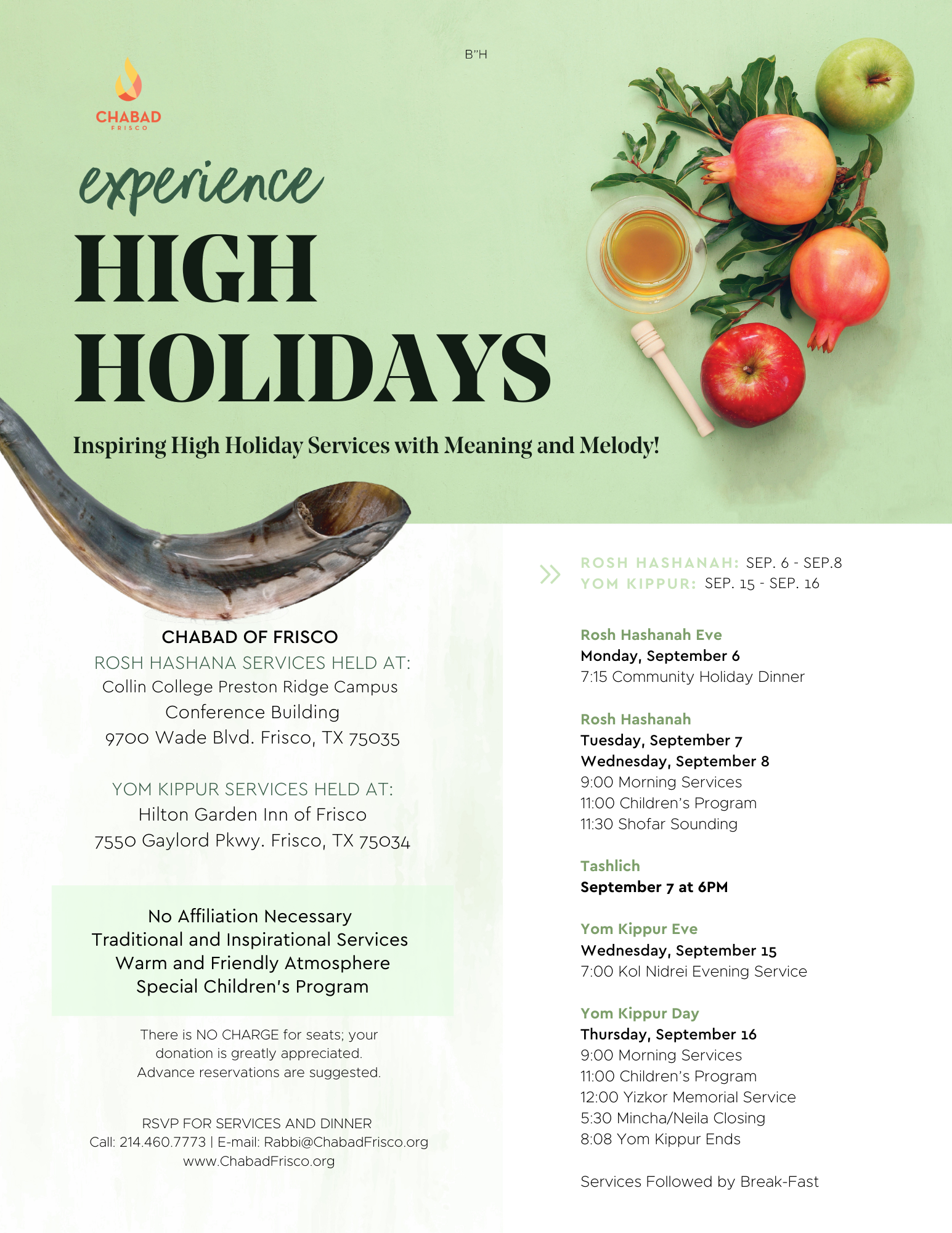 LOCATION INFORMATION:
Rosh Hashana Services Location:
Collin College Preston Ridge Center: Conference Building
9700 Wade Blvd. Frisco, TX 75035
---
Tashlich Services Location:
Meet at the lake behind this address.
14404 Harbor Rd. Frisco, TX 75035
---
Yom Kippur Services Location:
Hilton Garden Inn of Frisco
7550 Gaylord Pkwy. Frisco, TX 75034
NEW! Want to stay over at the hotel on Yom Kippur?
The Hilton Garden Inn has a special room rate for High Holiday Attendees.
Email ChabadFrisco@gmail.com for booking info! 
---
Security Notice
All services and programs will have full security on site. 
Covid Notice
For indoor service we are reccomending masks. All surfaces will be sanitzed between services. There will be ample space to create distance between seats.
When
September 15th, 2021 7:00 PM to September 16th, 2021 8:00 PM
I will be joining the following services
Yom Kippur 9/24 + 9/25
7PM Kol Nidrei Evening Service
9AM Services
11AM Children's Program
5:30PM Neila followed by Break-fast
Suggested Donation
$100.00
$180.00
$360.00
$770.00
0
$0.00
Rosh Hashana tent
$2,000.00
Yom Kippur Hotel
$2,000.00
Assistant Rabbi and Cantor
$1,800.00
Pre Rosh Hashana Kids Fair
$500.00
Yom Kippur Breakfast
$770.00
Rosh Hashana Kiddush
$360.00