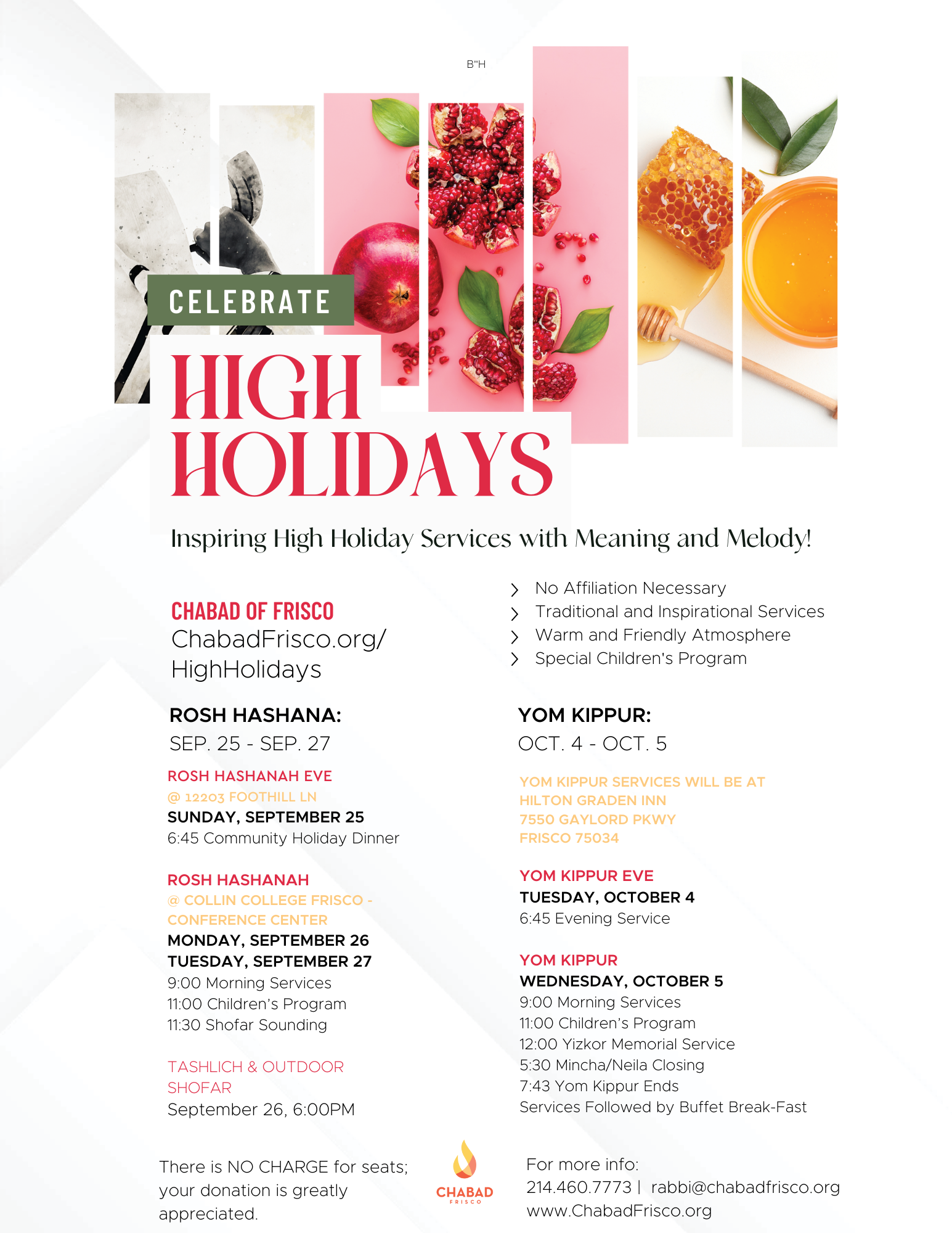 LOCATION INFORMATION:
Rosh Hashana Services Location:
Collin College Preston Ridge Center: Conference Building
9700 Wade Blvd. Frisco, TX 75035
---
Tashlich Services Location:
Meet at the lake behind this address.
14404 Harbor Rd. Frisco, TX 75035
---
Yom Kippur Services Location:
Hilton Garden Inn of Frisco
7550 Gaylord Pkwy. Frisco, TX 75034
Want to stay over at the hotel on Yom Kippur?
The Hilton Garden Inn has a special room rate for High Holiday Attendees.
Use this link to book a room at a discounted rate
Or call 214.387.9271 to make the reservation, and can give rate code "CHBD" to receive discounted rate.
---
Security Notice
All services and programs will have full unfiromed security on site.
When
October 4th, 2022 2:00 PM to October 6th, 2022 8:00 PM
I will be joining the following services
Yom Kippur 9/24 + 9/25
7PM Kol Nidrei Evening Service
9AM Services
11AM Children's Program
5:30PM Neila followed by Break-fast
Suggested Donation
$100.00
$180.00
$360.00
$770.00
0
$0.00
Rosh Hashana tent
$2,000.00
Yom Kippur Hotel
$2,000.00
Assistant Rabbi and Cantor
$1,800.00
Pre Rosh Hashana Kids Fair
$500.00
Yom Kippur Breakfast
$770.00
Rosh Hashana Kiddush
$360.00